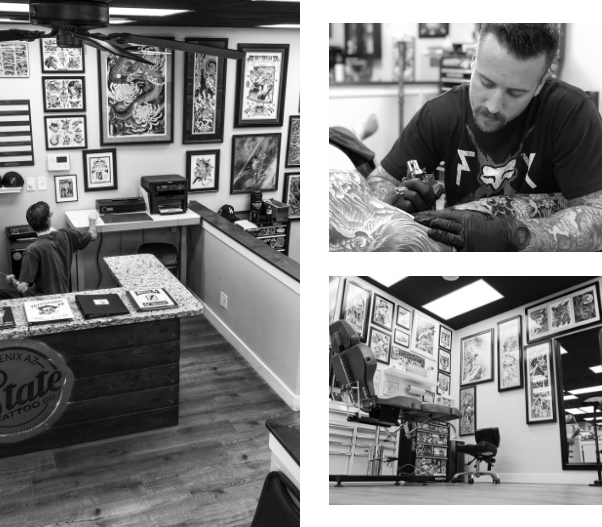 State Tattoo Company was founded in 2018 by two native Arizona tattoo artists Jonny Wogan and Bryan Craig. The goal was to create a clean and inviting tattoo shop, where quality tattooing and great customer service would provide the best possible experience for both the client and the tattooed.
Our goal as tattooers is to create strong tattoos that honor the past and hold the test of time. We want our work to also have a modern and unique touch. At State Tattoo, we are committed to creating tattoos that our clients want; while helping them get the best lifelong piece possible.
WHAT OUR CLIENTS ARE SAYING
This place is an awesome! The people here are really dope people and have really good work! Would recommend anyone who is thinking about getting tattoos or already have tattoos to check this place out.
Steven did a great job on my small detailed tattoo. We had a group that scheduled to come in together. Everyone was friendly and accommodating to our various designs and pavements. It was an awesome experience and clean environment.
State Tattoo Company is easily one of the best spots in Arizona for tattoos. Amazing artists and very genuine and awesome people. I highly recommend anyone to check them out!
100% best tattoo experience I've ever had. The shop is spotless inside and out. Steven Fruzyna is single handily the best tattooer I've seen. I'll only go back to Steven when getting the rest of my tattoos. Let him run wild with your tattoo ideas and you'll never be disappointed.
My first tattoo and it was an awesome experience. My tattoo artist was great and not only did really good work but he was also very engaging, informative and conversational. The environment was fun, energetic, bright, clean and professional. I am the second in my family to use this shop and we will definitely be back for more. Great place to get a tattoo!
Have been coming here for over a year now for a chest piece and sleeves, have more sessions scheduled. Clean. Professional. Skilled team. Great group of artists who take pride in their work and treat customers like family.
Keep bandage/wrap on for 1-3 hours
Remove the bandage/wrap, and gently wash with warm water and mild antibacterial hand soap (Dial Gold or something like it)
(Repeat washing twice a day for first week)
Pat dry with a clean towel/air dry
Apply Aquaphor Healing ointment LIGHTLY (2-3 times daily) Less is more!
After the 3rd day, switch to a fragrance free plain white lotion. Use 2-3 times daily (lubriderm/Curel/etc.)
Continue this process for 10-14 days, or until your tattoo is completely healed
If your tattoo has any scabs, DO NOT PICK AT THEM.
*You may re-wrap your tattoo with plastic wrap the first night to sleep if you'd like.
Contact your artist or call the shop if you have any questions/concerns.
FREQUENTLY ASKED QUESTIONS
717 W Union Hills Dr, Unit #5, Phoenix, AZ 85027
Tuesday - Saturday 12pm - 8pm
(623) 215-4640